Robot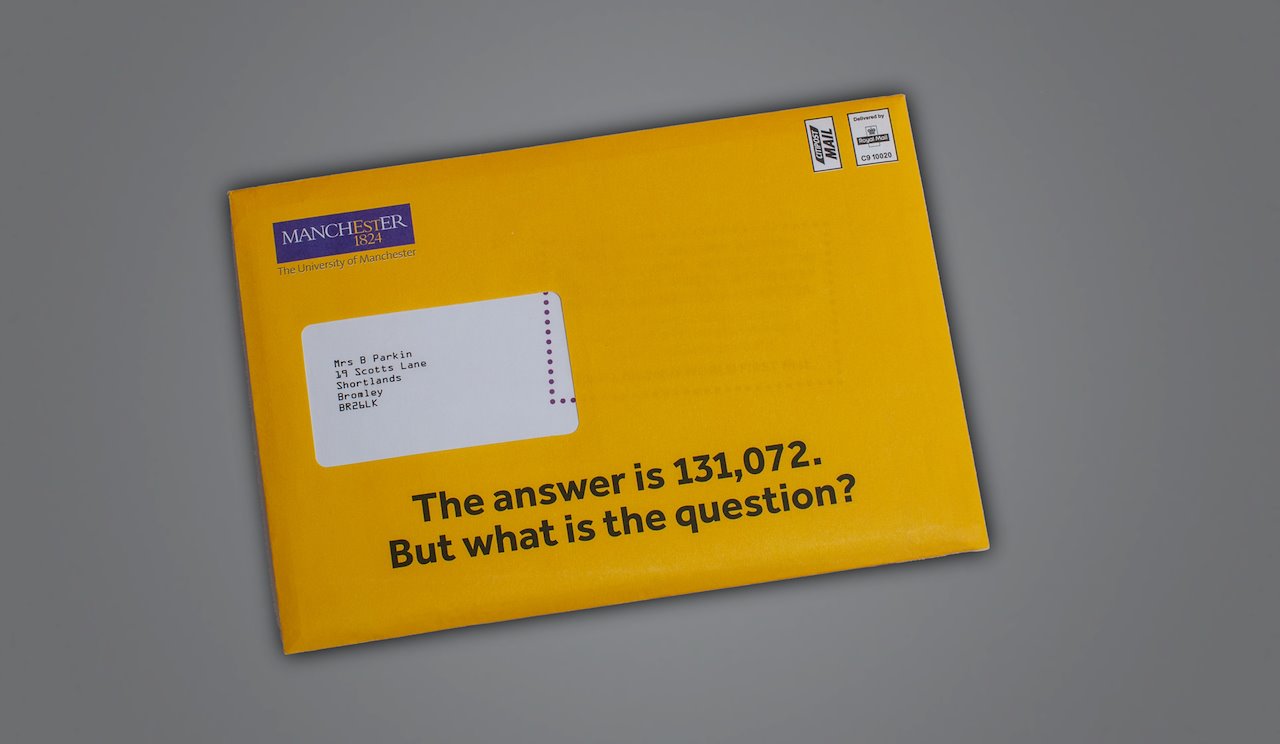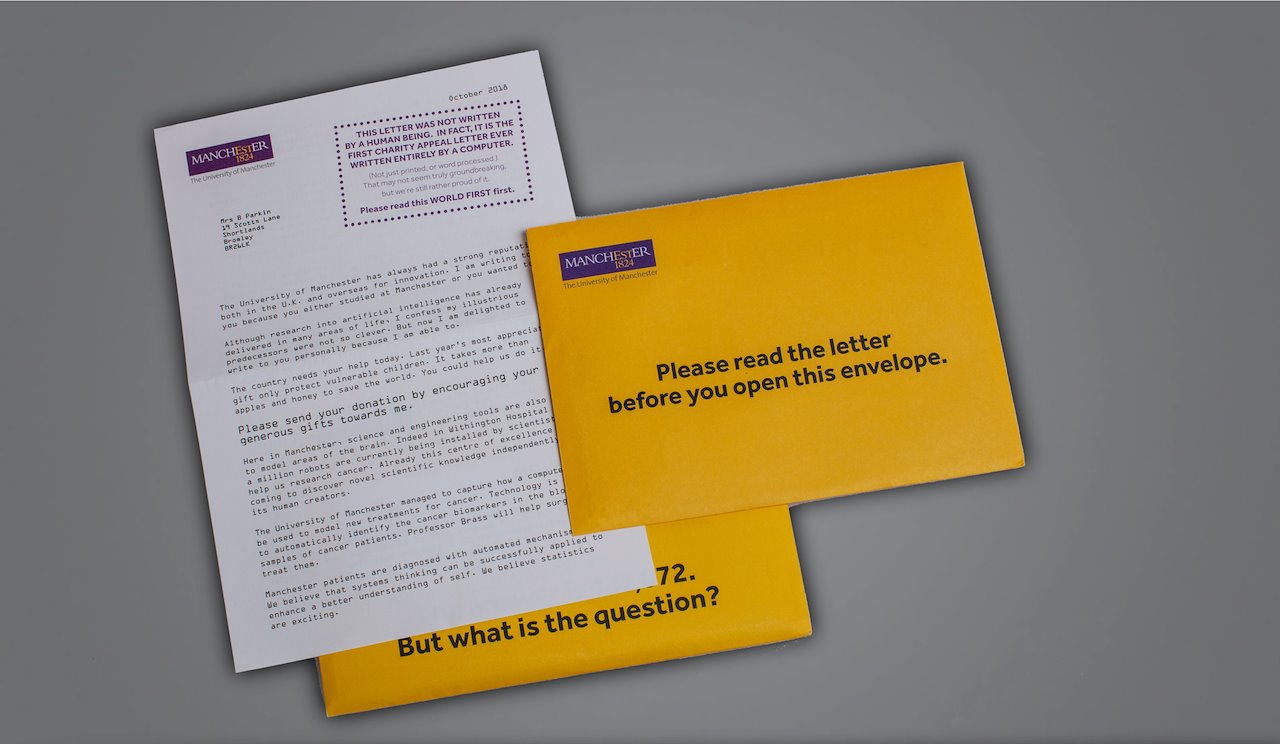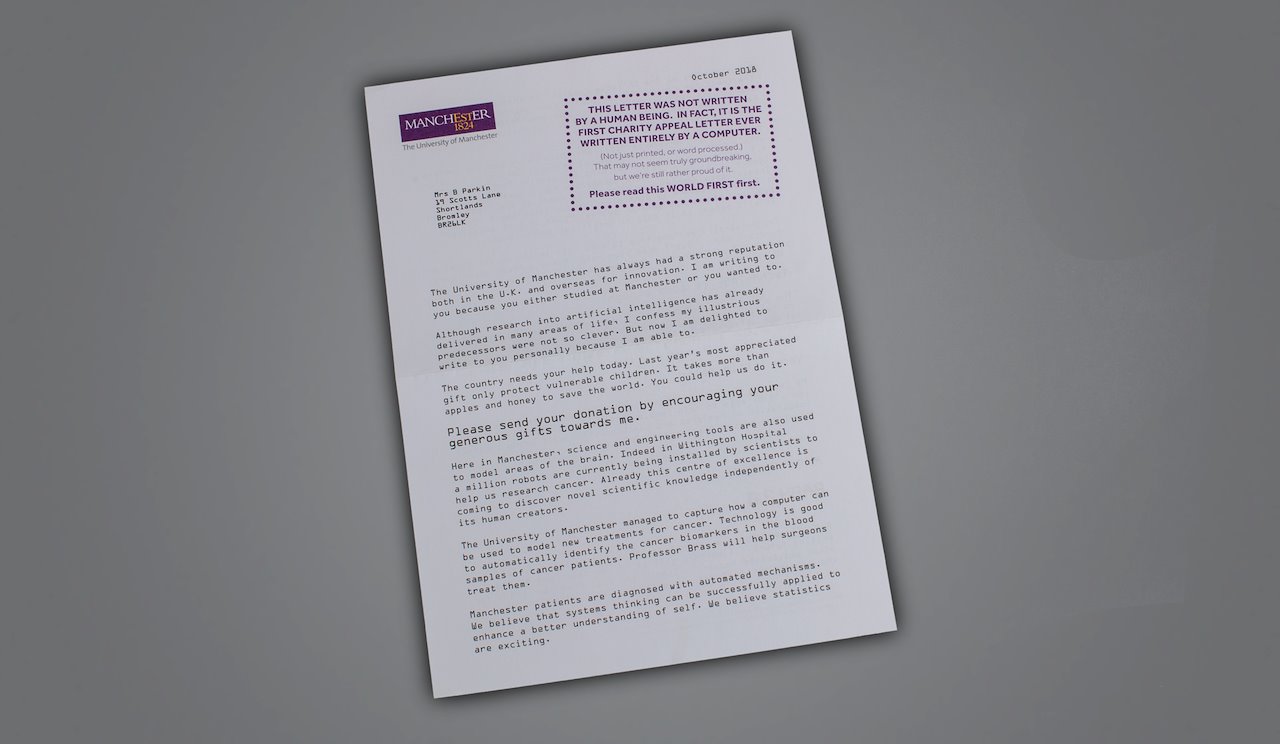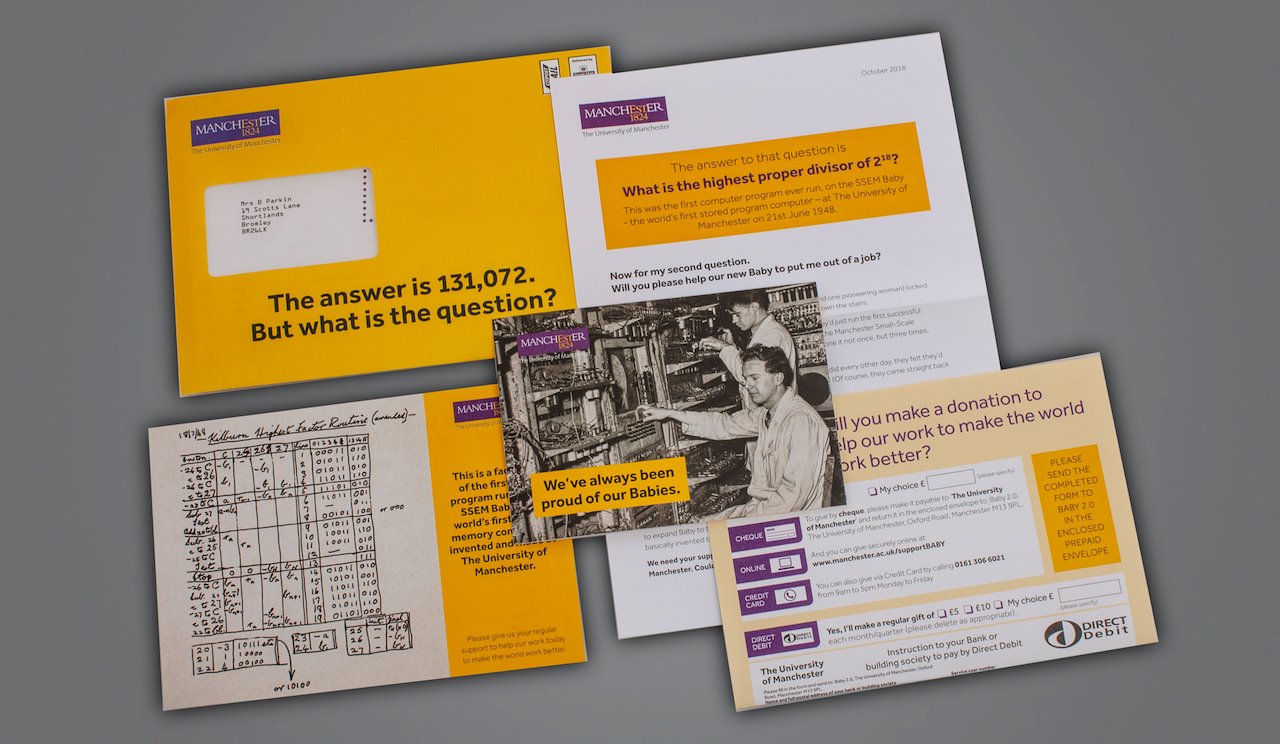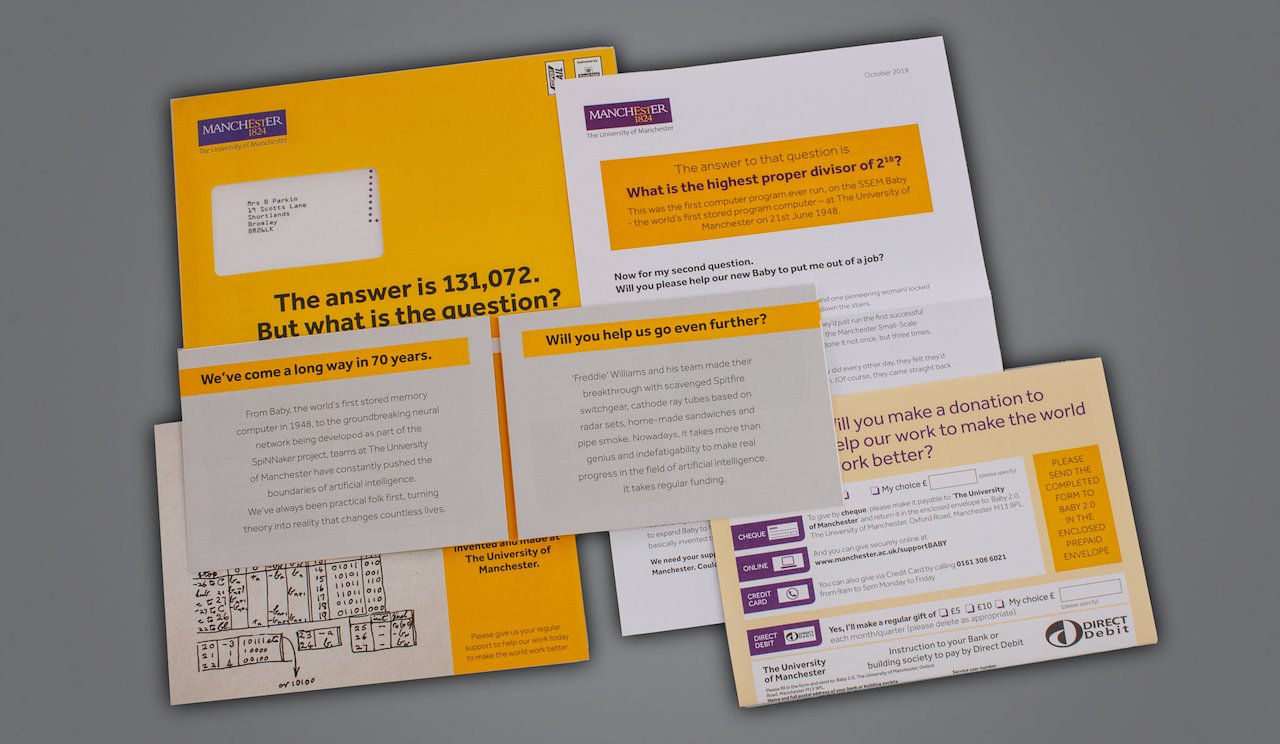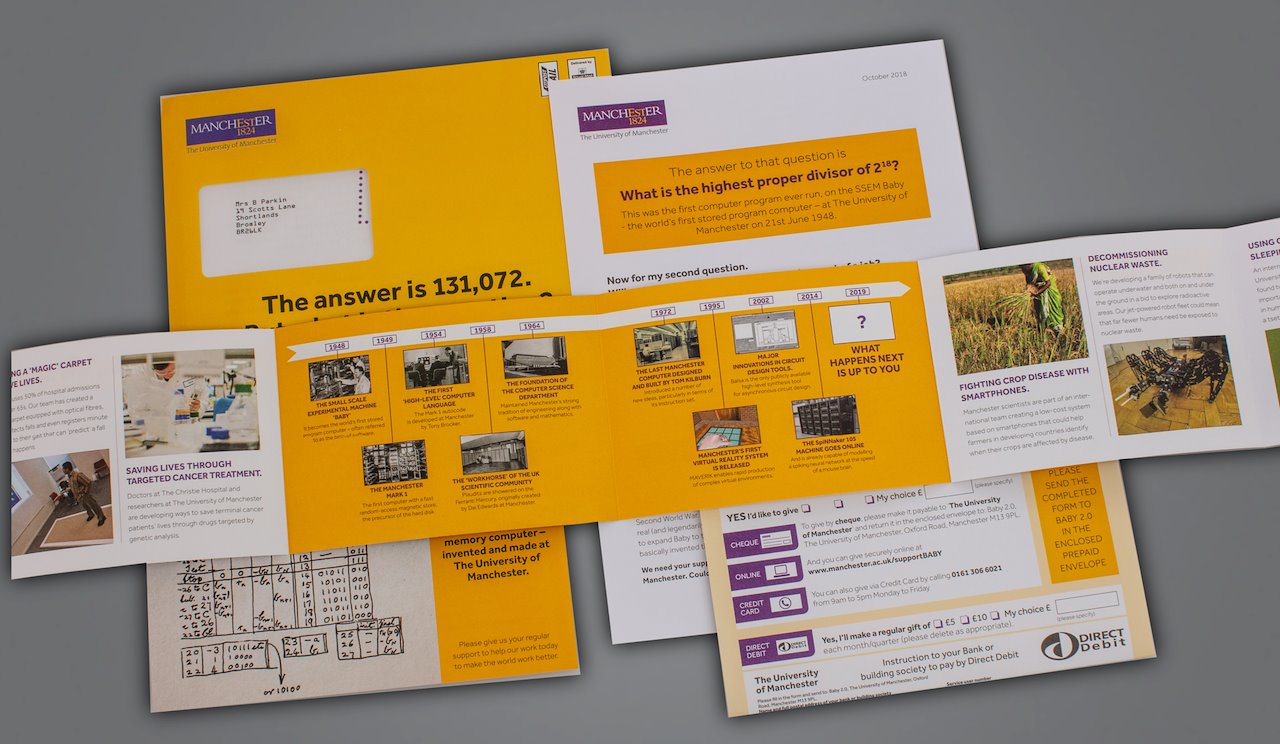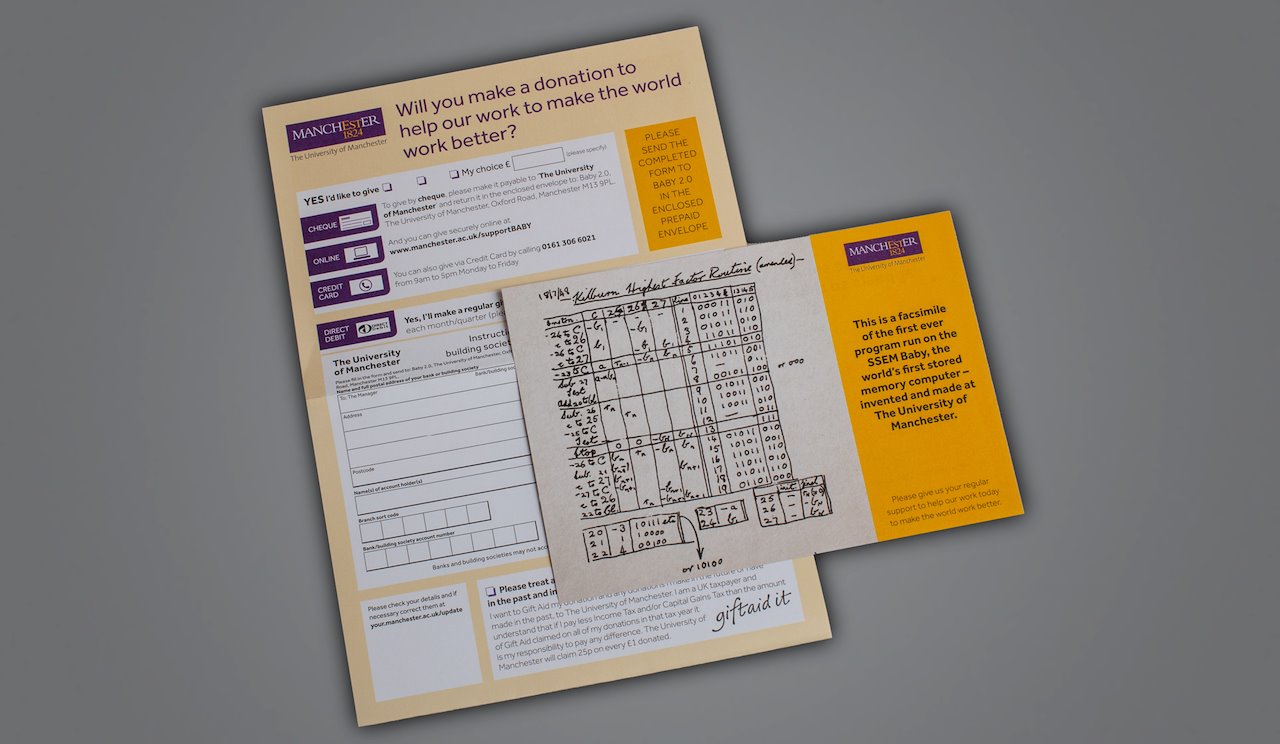 There are very few world firsts in fundraising. This is one of them.
It's the very first appeal letter ever created and written by a computer algorithm.
We named the algorithm Baby 2.0 in tribute to the first computer to run software – Baby – invented and made at the University of Manchester.
We had to scan thousands of charity appeals into Baby 2.0 to give it the required degree of fluency to write the letter. And even then it made some mistakes, which we left in to show how far AI still has to go before it can truly compete with humans.
Automation of this kind is exactly what Manchester computing pioneers like Alan Turing, 'Freddie' Williams and Jack Kilburn would have been working on had they been part of the University now rather than in the late 1940s.
And while Baby 2.0's first steps may have been a little faltering, it is a machine that will learn and improve – and a promising successor to Baby itself.
The intriguing question on the 'doormat dominant' yellow outer envelope is designed to appeal to an audience who are very aware of their computing history.
The main appeal is contained within a second envelope, ensuring that the letter from Baby 2.0 is read first, making sure that the reader understands the concept before she goes further.
This second letter uses the power of nostalgia to hook the reader, because we know this is always an incredibly strong way to get our alumni into a story and make sure they don't put it down.
It tells the heroic tale of the creation of the original Baby, paying tribute to Ida Fitzgerald, one of the forgotten female pioneers of computing in Britain. But the mailing quickly moves on to bring the reader back from the 1940s to the present day and to Manchester's latest cutting edge computing projects.
We did it this way in order to answer three questions in the recipient's mind:
Why me? (Because you are an alumnus of the University of Manchester, you have an affinity with computing and maths, and because you are connected to the University and you want your 'team' to do well).
Why this cause? (Because young students who have a genius for maths and computing are struggling to support themselves or even to come to the University in the first place).
Why now (Because Manchester has so many amazing projects underway in this field – all of which are 'making the world work better').
It worked – generating more regular gifts than any communication the University had ever produced before. And it won a prestigious CASE Gold award in celebration of its originality and excellence.
---
Role Art Director

For The University of Manchester

Date 2019

Type Direct Mail Fundraising Appeal
Up Next:
Toyota IQ integrated – speculative